---
MkVIII KTT based specials
There have been some very interesting MkVIII based specials. The new book by Chris Pereira - British 250 Racing Motorcycles, subtitled 1946-1959 : an era of ingenious innovation, lists some of the outstanding KTT based 250cc racers of the 50's. There are Beasley's, GMV's (Geoff Monty Velocette), RDS (Reg Dearden Special), Ray Cowles and Benny Rood's DOHC special.This book is well worth a read and while not comprehensive, gives a good flavour. ISBN 1-904788-12-2
I know of a beautifully constructed machine in Germany in a hand built frame of the featherbed type by Dieter Busch. It used to be regularly raced in Germany but I haven't seen it for a couple of years. It has a standard 350cc Mkviii KTT engine.
Predominant among Mkviii special builders was Douglas Beasley. I believe there were eleven constructed using mostly his own duplex frames and many Velo parts. At least one was in a Norton frame and another was probably a collaboration with Ernie Earles and had Earles-type forks.At least one seems to have been a DOHC of his own design. While the last of them is well known for having been built for Percy Tait in 1958, many famous names rode Beasleys at some time in their carreer - Bill Lomas, Cecil Sandford, Dan Shorey, to name but a few.
I now know of the existance of four Beasleys (including my own) Numbers 7,8 , 11 and this one in Australia (see photo's below ) but the number on the crankcase does not match the system of numbering that I understand Doug Beasley to have used. It appears to have the typical duplex frame and the 'trademark' reversed Velocette front forks.
Perhaps someone recognises this bike ?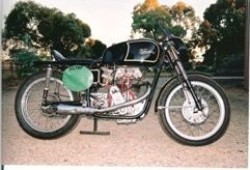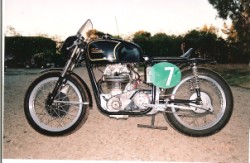 I have a vested interest in seeking information about Beasley KTT's as I have one. My machine has DB8 stamped on the crankcase along with 1953 as the year of manufacture. It is now complete and running and looks pretty and businesslike.
Below are two photos of my Beasley DB8. I bought the bike complete and original except that it was missing the original fuel tank. I am sure that it originally had a Mkviii tank but these didn't fit very well or look very pretty, so i have taken the liberty of having a tank and seat base made 'in the style and spirit of the times'. Testing at Cadwell Park indicated that the bike goes and handles well. The engine is 250cc - bore 68m x stroke 68 mm and has an unusual magneto - the only magnesium body that I can recall seeing.
June 2006 - the engine was rebuilt during the winter when it was discovered that one of the bottom bevel gears had lost two teeth. Ridden in Holand this month, the bike is now going well.
If anybody can provide me with any history for this bike, I will be very grateful, it must have been built specially for someone.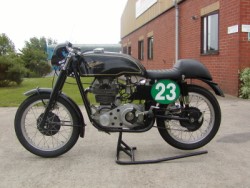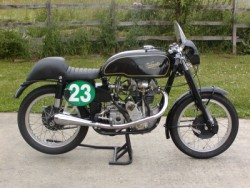 My friend Bill Dawson is working on two MkVIII specials. One will be a 'standard' machine but with a 500cc engine, probably 86x86, the other is the Covel.
Bill has now completed the Covel - a reconstruction of the bike that Hedley Cox built. This uses two 250cc Mkviii engines coupled together as a parallel twin. Bill has built his own frame from a drawing and a set of lugs that he had to machine himself. Nearly everthing else is Bill's work and the result is splendid. There is a report on the machine in September's Classic Racer. The bike was tested by Bill Swallow and the article makes good reading. See photo's below.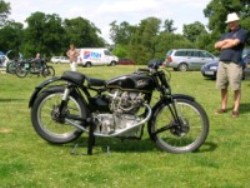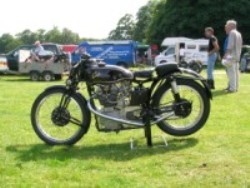 Photo's of the Geoff Monty Velocette (GMV) below. Another very competitive 250cc special built in the 50's by Geoff Monty using a featherbed frame and a Mkviii motor. Recently rebuilt by John Patterson and photgraphed at Cadwell Park July 2005. This engine retains the 74 mm bore and the stroke is 57 mm. Velocette gearbox and clutch is used. I will ask John to write a technical article on his beautiful bike.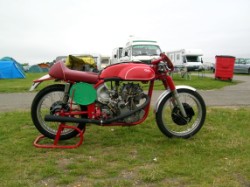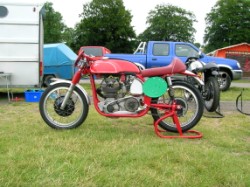 Ray Cowles built two similar machines with Mkviii engines bored and stroked to 68mm x 68mm and placed in a modified featherbed frame and Norton forks. Velocette gearboxes and clutches were used and I believe the Mkviii hubs were also used.

Next Page